Individual results may vary
"Now that I'm experiencing
fewer attacks, I can finally
focus on other things in my life."
—Mike, patient with AIP
Individual results may vary
"Now that I'm experiencing
fewer attacks, I can finally
focus on other things in my life."
—Mike, patient with AIP
Upcoming programs and events
Thank you for your interest.
There are no upcoming events at this time, but please check back later.
In the meantime, sign up to receive email updates and information about acute hepatic porphyria (AHP) from Alnylam.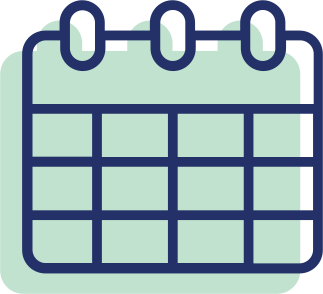 Stay informed with educational resources
There is a range of resources designed to help you navigate your treatment journey. Explore all the helpful information provided below.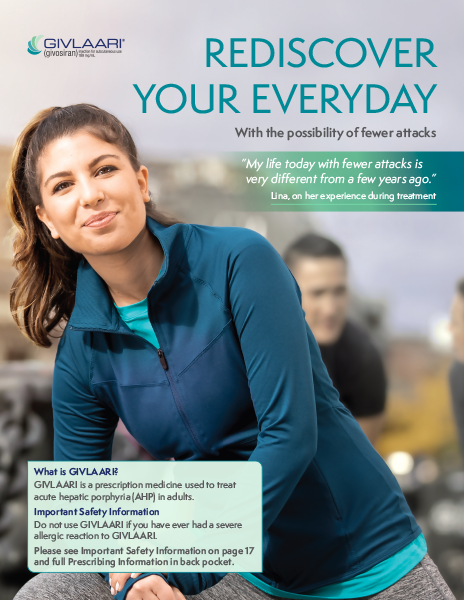 Considering GIVLAARI® (givosiran)?
This brochure will help you learn more about GIVLAARI. If GIVLAARI seems like something that may help you, talk with your doctor about your treatment options.
---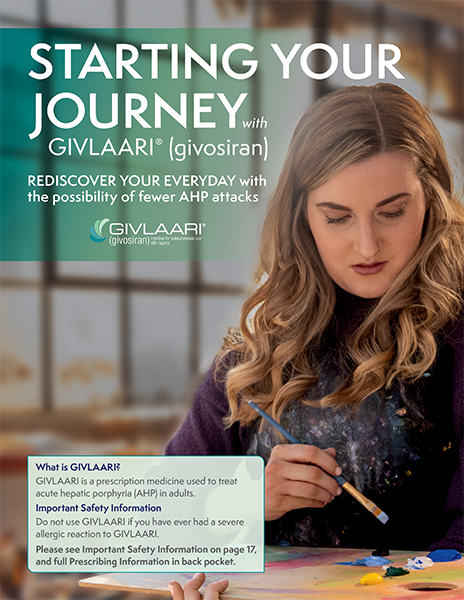 Starting GIVLAARI
Now that you and your doctor have decided to start you on GIVLAARI, this guide may help you understand more about your treatment and the support available to you through Alnylam Assist®.
Frequently asked questions about GIVLAARI
There are probably a lot of things you want to know about GIVLAARI. Below you can find some answers to frequently asked questions. This information is not intended to replace discussions with your healthcare provider.
Choose a topic from one of the categories below, and click on it to get more information.
GIVLAARI is a prescription medicine used to treat AHP in adults. There are 4 types of AHP:

Acute intermittent porphyria (AIP)
Variegate porphyria (VP)
Hereditary coproporphyria (HCP)
ALAD-deficiency porphyria (ADP)

Most patients in GIVLAARI clinical studies had AIP, the most common type of AHP
GIVLAARI is given once a month as a subcutaneous injection (under the skin) by a healthcare professional.
If you miss a dose, talk to your doctor about scheduling your next dose as soon as possible.
GIVLAARI can cause liver problems. Your doctor will check your liver function by doing blood tests:
Before you start using GIVLAARI
Once a month for the first 6 months of treatment
And when they think it is needed
If these tests show abnormal results, your healthcare provider will decide whether to temporarily interrupt or stop treatment with GIVLAARI.
GIVLAARI can cause kidney problems. Your doctor will check how your kidneys are working while you are using GIVLAARI.
GIVLAARI may cause increased levels of homocysteine (a type of amino acid ) in your blood. Your doctor will check your homocysteine levels before and during treatment by doing blood tests.
In clinical studies of GIVLAARI, some people on GIVLAARI used hemin to treat AHP attacks. Use of GIVLAARI with regularly scheduled (prophylactic) hemin was not studied in clinical trials of GIVLAARI. Talk to your doctor if you have questions about your treatment plan.
GIVLAARI has not been studied in women who are pregnant. If you are pregnant or plan to become pregnant, it is important to discuss your treatment plan with your doctor.
Keeping a journal to track how you feel is a great way to see if there is progress over time. You can compare your notes from month to month to see any potential changes in your health.
Be sure to bring your journal with you to doctor appointments to remember any questions or share your experience.
GIVLAARI is given as an injection under the skin (subcutaneous) by a healthcare professional. Depending on your doctor's recommendations and your insurance plan, home administration by a nurse or other healthcare professional may be an option.
Stay updated
Sign up for the latest news about GIVLAARI